The Lizzy Borden Story
---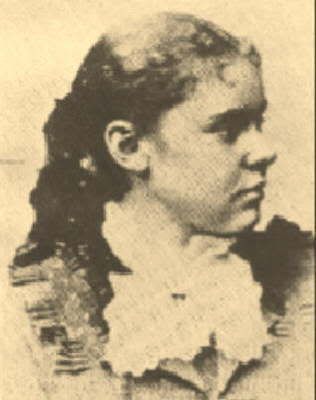 Li

zzie Borden took an ax
Gave her mother forty whacks;
When she saw what she had done
She gave her father forty-one!

Odds are that you have heard this school yard rhyme. This rhyme was created after the gruesome murders of Lizzie Borden's father and stepmother.

Lizzie Drew Borden was born 19 July 1860 in Fall River, Massachusetts. The second daughter of Andrew Borden and Sarah J. Morse. Sarah died when little Lizzie was two. Andrew Borden, an affluent businessman, was only interested in money. He was worth $500,000 in gold but refused to install plumbing in his home. He was strict with others and tight with his money. Andrew married spinster Abby Durfee Gray, 38 in 1865, when Lizzie was three and Emma was 12.

Lizzie never dated; she was well liked and active in civic and charitable work. She taught Sunday school at Central Congregational, was an officer of the Christian Endeavor Society, and member of the Women's Christian Temperance Union. Emma 42, rarely went anywhere except to visit another nearby spinster, Alice Russell.

The girls were both upset with their father, for announcing that he was withdrawing their portions of inheritance and leaving it all to his wife Abby. There was a tremendous amount of turmoil in the home.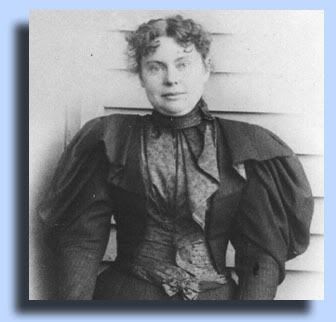 Lizzie lead a fairly unremarkable life. She was a spinster, well liked in social circles and a Sunday School teacher. That is until the fateful day of August 4, 1892, that is the day Lizzie became infamous.
The day is stiflingly hot, over one hundred degrees, even though it is not yet noon. The elderly man, still in his heavy morning coat, reclines on a mohair-covered sofa, his boots on the floor so as not to soil the upholstery. As he naps in the August heat, his wife is on the floor of the guestroom upstairs, dead for the past hour and a half, killed by the same hand, with the same weapon, that is about to strike him, as he sleeps.
"... one of the most dastardly and diabolical crimes that was ever committed in Massachusetts... Who could have done such an act? In the quiet of the home, in the broad daylight of an August day, on the street of a popular city, with houses within a stone's throw, nay, almost touching, who could have done it?"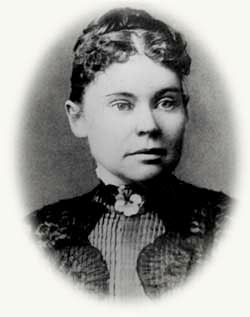 "Inspection of the victims discloses that Mrs. Borden had been slain by the use of some sharp and terrible instrument, inflicting upon her head eighteen blows, thirteen of them crushing through the skull; and below stairs, lying upon the sofa, was Mr. Borden's dead and mutilated body, with eleven strokes upon the head, four of them crushing the skull."

(From the closing arguments for the defense of Lizzie Borden, made by her principal attorney, George D. Robinson.)

The Lizzie Borden case has mystified and fascinated those interested in crime for over one hundred years. Very few cases in American history have attracted as much attention as the hatchet murders of Andrew J. Borden and his wife, Abby Borden. The bloodiness of the acts in an otherwise respectable late nineteenth century domestic setting is startling. Along with the gruesome nature of the crimes is the unexpected character of the accused, not a hatchet-wielding maniac, but a church-going, Sunday-school-teaching, respectable, spinster-daughter, charged with parricide, the murder of parents, a crime worthy of Classical Greek tragedy. This is a murder case in which the accused is found not guilty for the violent and bloody murders of two people. There were the unusual circumstances considering that it was an era of swift justice

, of

vast newspaper coverage, evidence that was almost entirely circumstantial, passionately divided public opinion as to the guilt or innocence of the accused, incompetent prosecution, and acquittal. Lizzie Borden murders



The Haunting of the Lizzie Borden House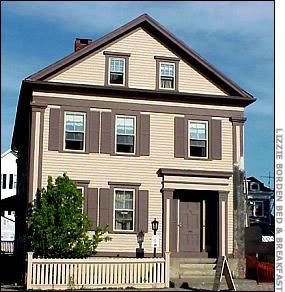 In the years since the murders and the trial, the house has gone on to become the Lizzie Borden Bed and Breakfast Museum, a time capsule of the era when the murders took place and a quaint inn. Guests come from all over the country to be able to sleep in the room where Abby Borden was killed, but not all of them sleep peacefully -- and not all of the spirits here rest in peace.

Guests and staff members alike have had their share of strange experiences in the house. Some have reported the sounds of a woman weeping and others claim to have seen a woman in Victorian era clothing dusting the furniture and straightening the covers on the beds. Occasionally, this even happens when the guests are still in the bed! Others have heard the sounds of footsteps going up and down the stairs and crossing back and forth on the floor above, even when they know the house is empty. Doors open and close as well and often, muffled conversation can be heard coming from inside of otherwise vacant rooms.

One man, who had little interest in ghosts, claimed that he accompanied his wife to the inn one night and took their luggage upstairs. The room had been perfectly made up when he entered, the bed smooth and everything put in its place. Over the course of a few minutes of unpacking, he happened to look over to the bed again and saw that it was now rumpled, even though he was in the room alone and had not been near it. With a start, he also noticed that the folds of the comforter had been moved so that they corresponded to the curves of a human body. On the pillow, there was an indentation in the shape of a human head!

His wife found him a few minutes later sitting in the downstairs sitting room. His face was very pale and he seemed quite nervous. When she asked him what was wrong, he took her back upstairs to show her the strange appearance of the bed. However when he opened the door, the pillow had been plumped and the comforter looked just as it did when he first entered the room -- the room where Abby Borden had been murdered!

Lizzie Borden murders











This site is © Copyright R. David Anderson 2009-2010, All Rights Reserved.

Web templates